Description
Faster Recovery
Increased blood circulation helps to eliminate fatigue, reduce inflammation and provides a faster recovery
When you exercise, you 'stress' your muscles, causing minor tears to your muscle fibres. These tears are what will later cause you to improve, but initially they result in muscle inflammation and the accumulation of metabolic waste (lactate, pyruvate, ammonia, bicarbonate and pH).
The small muscle injuries result in a combination of soreness, fatigue and reduced muscle strength, which limit your ability to train at full strength and get the most benefit from your workout. That's why the ability to recover rapidly is so important.
By using recovery boots in your daily workout, you can speed up the recovery process that your body's lymphatic and vascular systems perform naturally over a longer period of time they increase blood circulation that helps your body get rid of accumulated waste in your muscles faster and more efficiently than your body normally can. The result is that your muscles heal and recover faster.
Prevent injury or recover from them faster
Increased blood circulation helps to remove waste products and can help you prevent injury and recover from them faster
Injuries are very disruptive to your training and are an athlete's worst nightmare.
There may be many reasons for your injury; technique, excessive training and lack of recovery. You should therefore refrain from doing too much, too often and too quickly. The body needs time to adapt to changes in your workout, and to changes in your training hours or intensity. Muscles and joints require recovery time so that they can recover and cope with the requirements imposed by your training. If you force the exercise process, you may break down your body instead of building it up.
Research shows that compression and massage improve oxygenation and reduce inflammation and muscle micro-trauma (the small tears that training causes in your muscles). In this way, a set of recovery boots can help you recover from your training faster and thus reduce your risk of injury caused by excessive training.
Better Results
Faster and more effective recovery can give you better training quality and thus better results
Although there are many factors to consider when you want to improve your performance, the ability to consistently perform your training is a high priority
However, consistent training is not enough if your body has not sufficiently recovered. Muscle soreness, reduced muscle strength and fatigue will dramatically reduce the effectiveness of your workout and may lead to a downward spiral that prevents you from exercising regularly and may also be a potential risk of injury (excessive training).
To prevent the above, the vast majority of top athletes include regular recovery periods in their training schedules. Sufficient sleep and proper nutrition can help ensure a good recovery. If you include at least a 30-minute compression session in recovery boots, you will experience additional recovery benefits.
The compression in a set of recovery boots will increase blood circulation and speed up your body's natural recovery process by eliminating the accumulation of metabolic waste products and lactate after training.:
the benefits can help you get the most from your training. The ability to recover faster after your last training session can help you to maintain (or even increase) your exercise volume and intensity, which can ultimately improve your performance.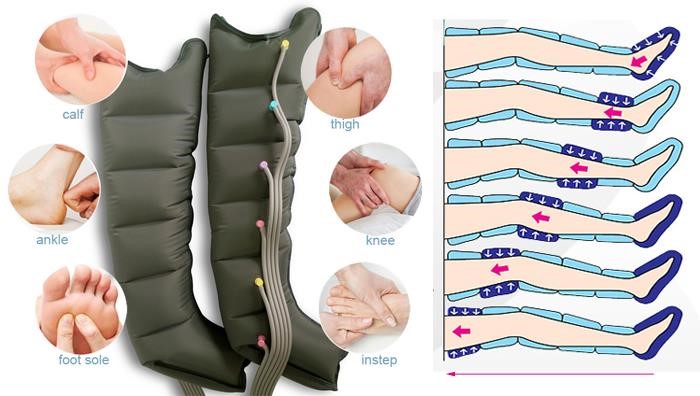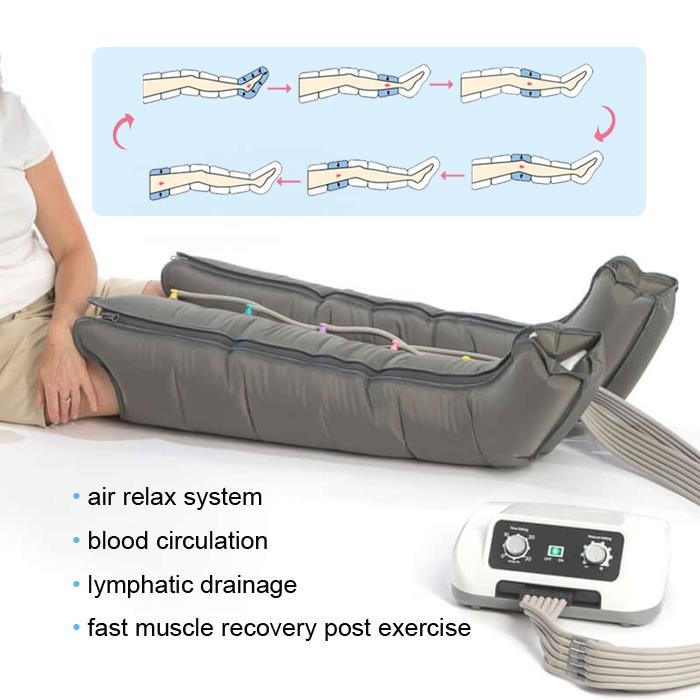 RECOVERY BENEFITS FOR TRAINING
INCREASE BLOOD FLOW + CIRCULATION
REMOVES TOXINS (LACTIC ACID, ETC)
SPEEDS UP MUSCLE RECOVERY TIME
REDUCES MUSCLE INFLAMMATION
REDUCES MUSCLE TENSION
REDUCES FATIGUE
INCREASE FLEXIBILITY + ROM
PRE-WORK OUT (WARM UP)
INJURY BENEFITS + ALIGMENTS
SPEEDS UP RECOVERY FROM SPRAINED/TORN ANKLE LIGAMENTS/TENDONS
SPEEDS UP RECOVERY FROM MUSCLE INJURIES
FLUID RETENTION
BAD BLOOD CIRCULATION
SPEEDS UP TENDONITIS RECOVERY
ON SET VARICOSE VIENS
HELPS PREVENT CELLULITE
HELP HEAVY LEG SYNDROONE
WEIGHT LOSS
OPTIONS
IN CLINIC USE €20 – 30 MIN
HIRE – RECOVERY BOOTS – €50 – 7 DAYS
GROUP SESSION 10 AT A TIME, 1-40 IN 2 HOURS
GROUP PRICE VARIES PER NUMBERS