Our clinic
DB fitness & injury clinic is situated in the heart of wexford town. Owner Darren Browne is a multi-disciplined therapist with qualifications in sports injuries, extracorporeal shockwave therapy, soft chiropractic & osteotherapy, k-laser, muscle & nerve stimulation through dry needling, msk ultrasound, ultrasound therapy and a high-level standard in strength & conditioning. The clinic provides clients with a highest standard of care possible to help them recover from there injury and pain free.
Our goals
Our goals at the clinic is not to just treat the injury but to find the underlying cause of the injury so that it does not return. This is done by hands on treatment and the highest quality research in sports medicines and science based rehabilitation machines along with orthopidic test, bio mechanical assessments and moving patterns and rehabilitation exercises.
All therapists are fully qualified and highly experienced in there areas of expertise. Our services cover everything from acute to chronic to sports injuries to every day aches and pains.
Our Beliefs
We believe in getting to the root cause of the injury and to have all the appropriate treatments in the one clinic so that we can be more helpful to our clients and to save them the inconvenience of going from one clinic to the other.
Our Therapists
Darren Browne
Darren started DB fitness & injury clinic in 2014 with the aim of providing all the traditional treatments mixed with the most recent science based treatments and machines in the one clinic
Education:
Darren spent 5 years training under the guidance of world renowned therapist Anthony "star" Geoghegan and has multi qualifications in Sport injuries & massage, Extracorporeal shockwave therapy, K-laser, MSK ultrasound, Ultrasound therapy, Dry needling, Stimulation using dry needling, Rip tool therapy's, Cupping, and Bio mechanical assessments.
He also spent time in Stockholm Sweden at the world-renowned ACKERMAN soft chiropractic & osteopate college and is fully qualified in its techniques.
Career: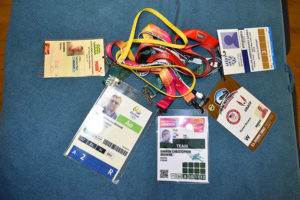 Darren has a long career in high level sport from an early age with under age inter-county football & hurling teams and progressed to the minor, u21 and senior teams in football. He is also an accomplished low handicap golfer and won numerous cycling races around Ireland at underage. Darren also spent time as a youth player at Milwall fc in England and played for Waterford United, limerick city and wexford youths in league of Ireland.
Most recently he has been traveling around the world with world class adidas sponsored athletes as part of their medical staff. He has attended adidas training camps in Holland, Florida and oregan and worked at the US Olympic athletics trails and was part of the ZAMBIA medical staff for the RIO 2016 OLYMPICS and numerous diamond league athletic races around Europe.
This year he was invited down to Jamaica to treat numerous athletes (including ASAFA POWELL) at the Jamaican national athletics championship and attended the London World Athletics Championship as part of the Panamanian medical staff.